International Education Week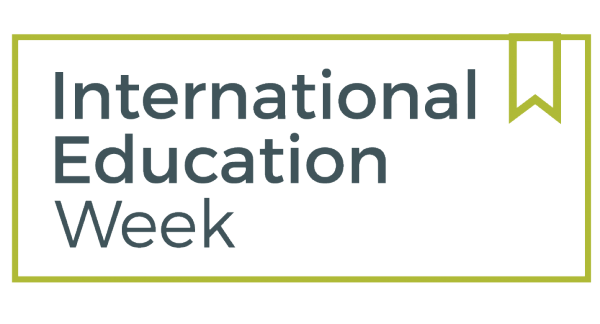 Click HERE to submit an event.
International Education Week (IEW) is celebrated across the U.S. the week of November 13 - 17, 2023. At the University of New Mexico, IEW is coordinated by the Global Education Office.
International Education Week (IEW) is a joint initiative of the U.S. Department of State and the U.S. Department of Education to recognize the global exchange environment between the United States and other countries.
To keep up with all the latest updates, follow us on Facebook and Instagram.
Calendar of Events
Monday, November 13
Sharing Your Study Abroad Story -
Have you recently studied abroad or are you interested in studying abroad? Join us for a celebration of international experiences! Reflect on your time abroad during our Passport to Professionalism workshop. Learn tips on how to showcase your intercultural skills on your resume, during interviews, and how to connect with your new study abroad network on LinkedIn.
Meet with others who have also studied abroad, and share your stories over pizza, crafts, and games. 
This event is free and open to all students!
At Language Learning Center Lab 4

GEO Sponsored Event
Mini Soccer World Cup - Tournament -
For this event, students have the opportunity to represent their favorite countries in 3 v 3 soccer matches! Teams of 4-6 can register to participate in this Mini World Cup event. Students of all genders and nationalities are eligible to participate! Teams can be mixed gender, and you do not have to be from the country your team is representing.

At Johnson Field
GEO Sponsored Event
Tuesday, November 14
Study Abroad Fair -
Join us to explore study abroad opportunities, scholarships and funding, and learn about global cultures. Meet with representatives from host schools to ask questions and learn more about studying at their school or talk with UNM groups leaders about opportunities for short term faculty led programs.
At UNM SUB 2nd floor and Atrium

GEO Sponsored Event
Foreign Language and Study Abroad Funding Opportunities -
Join LAII and GEO to learn more about the foreign language and study abroad funding opportunities listed below.
Foreign Language and Area Studies Fellowship: The FLAS Fellowship supports the study of less-commonly taught languages, area studies, and international competencies related to Latin America.
Boren Awards: Boren Awards support the study of critical languages and cultural field studies of world regions that are unders represented in study abroad.
Critical Language Scholarship: CLS provides opportunities for American college and university students to study languages and cultures essential to America's engagement with the world.
Benjamin A. Gilman International Scholarship: The Gilman Scholarship Program enables students of limited financial means to study or intern abroad, providing them with skills critical to our national security and economic prosperity. To be eligible for the Gilman Program, applicants must be receiving a Federal Pell Grant.
Freeman-Asia Program: The Freeman-Asia Program supports U.S.-based undergraduates with demonstrated financial need who are planning to study abroad in East or Southeast Asia.
At LAII Conference Room; 801 Yale Blvd. NE; UNM Building 165

GEO Sponsored and UNM Department Event
International Week Karaoke -
Get ready to sing your heart out at our international karaoke event! Join us for an afternoon of music from around the world, where you can showcase your talent and have a blast with friends. Don't miss out on this epic karaoke extravaganza!
At LAII Conference Room; 801 Yale Blvd. NE on the corner of Yale Blvd. and Sigma Chi
UNM Department Event

Old Irish Lecture Series -
Guest speaker is Dr. Ranke de Vries
Free Food!
At HUM 108

UNM Department Event
Wednesday, November 15
Geography: GIS Day -
GIS Day Symposium (Geographic Information System) will include tabling with vendors andd employers, and lightning talks presenting geography research.

At UNM SUB
UNM Department Event
National Institute of Flamenco Performance -
Experience the captivating art of flamenco right in the heart of UNM! Join us in front of the SUB on the East side for a mesmerizing performance by the talented UNM Flamenco students. Flamenco, an enchanting fusion of song, dance, and evocative guitar music, is intimately linked to the Andalusian Roma, also known as Gitanos. This intriguing art form's origins are steeped in the enigmatic history of the Roma people's migration from Rajasthan, India, to Spain between the 9th and 14th centuries.
At UNM SUB
GEO Sponsored
Cultrual Collaborative: Exploring Evolving Gender Roles Across Cultures -
This fun, interactive peer-to-peer discussion sponsored by GEO, Men of Color Initiative, Women's Resource Center, and LGBTQ Resource Center features cultural cuisine and dialogue around gender, culture, and values. Let's break down barriers and enjoy delicious international cuisine! 
At Jackson Student Center at Anderson

GEO Sponsored and UNM Department Event
American Revolutionary Screening & Panel -
What does it mean to be an American revolutionary today? Grace Lee Boggs is a 98-year-old Chinese American woman in Detroit whose vision of revolution will surprise you. A writer, activist, and philosopher rooted for more than 70 years in the African American movement, she has devoted her life to an evolving revolution that encompasses the contradictions of America's past and its potentially radical future.

The documentary film, American Revolutionary: The Evolution of Grace Lee Boggs, plunges us into Boggs's lifetime of vital thinking and action, traversing the major U.S. social movements of the last century; from labor to civil rights, to Black Power, feminism, the Asian American and environmental justice movements and beyond. Boggs's constantly evolving strategy—her willingness to re-evaluate and change tactics in relation to the world shifting around her—drives the story forward.
Free Event!
At National Hispanic Cultural Center - Wells Fargo Theater

Community Event
Free Intro to Tango with Class and Dance at Juno -
Interested in learning a new dance?
Try Argentine Tango at Juno!

It is free and a lot of fun. No partner or experience is required.

Class starts at 7ish
Dancing starts at 8ish (Traditional and Alternative music)

Please support our venue by buying food and drinks!
ALL ARE WELCOME.
Free Event!
At JUNO Brewery + Cafe + Art

Community Event
Thursday, November 16
La Posada Goes Global -
Chef Wayne from UNM Food has crafted a delectable menu infused with Middle Eastern flavors, promising a delightful culinary experience. You can savor these enticing dishes at the Chef Innovation Station within the dining hall. If you're a student with a meal plan, this exceptional feast will conveniently deduct one meal swipe or offer a reduced meal plan rate. For our other valued guests, the is price of $11.15.
At La Posada Dining Hall

UNM Department Event
Singing "Aca'pala" and Doing Anthroplocura: A Testimonio of a Músicx y Puet -
¡Agua es vida! Water is life is a saying in the arid mountain deserts of NM. In this region the musical arts and theater have been an important source of inspiration within the growing land based acequia movement. Dabi García, UT Austin Graduate, will give a testimonio of their involvement in this movement conceptually using the concepts of "dandosegunda" and "singing out of tune," as local ways of building knowledge.
At LAII Conference Room; 801 Yale Blvd. NE; UNM Building 165
UNM Department Event
International Games Happy Hour -
Join us from 4pm - 7pm at Draft and Table in the UNM SUB to play games led by UNM International Students! There will food, drinks, and plenty of games to keep you entertained!
At Draft & Table SUB
GEO Sponsored Event
GEO Movie Night -
Join us for a movie night at the SUB Theater as we showcase "The Big Boss," starring the legendary Bruce Lee. Here's a brief overview of the film: "After showcasing his exceptional combat abilities in a factory brawl, a newcomer is promoted to the position of foreman and offered a meeting with the enigmatic big boss. However, when he stumbles upon the factory's clandestine criminal activities, he decides to enforce justice on his own terms."
At SUB Theater

GEO Sponsored Event
Friday, November 17
La Posada Goes Global -
Chef Wayne, part of the UNM Food team, has meticulously curated a menu infused with the vibrant and diverse flavors of Africa. These tantalizing dishes await you at the Chef Innovation Station located within the dining hall. If you're a student with a meal plan, you'll have the convenience of deducting a single meal swipe or benefiting from a discounted meal plan rate to relish this extraordinary feast. For our other cherished guests, the price for this culinary experience is $11.25.
At La Posada Dining Hall

UNM Department Event
NED Talks -
Nations Exchanging Dialogue (NED) Talks are short-format presentations about multi-disciplinary international research projects, similar to the trademarked TED talks. International students and faculty explain their research in a compelling and easily digestible way, using simplified language and engaging delivery for a broad audience.
At Draft and Table

GEO Sponsored Event
Geography: Murphy Lecture -
2023 Murphy Lecture International Intersectionality:
Exploring Climate Change Through Lenses of Vulnerability and Inclusion
With guest speaker, Lesley-Ann Dupigny-Giroux - Professor of Geography and Geosciences, The University of Vermont. There will be refreshment at 2:30 p.m. in the Bandelier East lobby outside 105.
At Kiva Lecture Hall

UNM Department Event
Tablao Flamenco Dinner Show -
Hotel Albuquerque is home to the Southwest's first authentic Flamenco Tablao. The National Institute of Flamenco in partnership with Heritage Hotels & Resorts is proud to offer this intimate performance space designed exclusively to feature the artistry of Flamenco. Enjoy a prix fixe dinner show on Friday and Saturday. Doors open at 6:15pm, dinner is at 7pm, and the performance is at 8pm.
At Tablao Flamenco Albuquerque 800 Rio Grande Blvd. N.W., Hotel Albuquerque at Old Town, Albuquerque
Learn more here.
Community Event
Saturday, November 18
Kimchi Festival -
Delicious Food and Fun Activities
9607 Menaul Blvd. NE
ABQ, NM 87112
Community Event
Afro Mundo: Liz Olivia Fernandez -
Social Justice Film Screening, Discussion to immediately follow.
A show 30 minutes total of Uphill on the Hill and Hardliner on the Hudson. They are unreleased. Both docs are 30-40 minutes each but given an hour 20 minutes is generally too long for audiences; they will show abridged and polished 15-minute segments of each.
In Uphill on the Hill, award -winning Cuban journalist Liz Olivia Fernandez travels to Washington D.C., where she exposes the political interests driving the U.S. government's Cold War-era policy toward Cuba.
In Hardliner on the Hudson, award-winning Cuban journalist Liz Olivia Fernandez goes to Union City, New Jersey, where she looks into the murky past of Senator Bob Menendez and reveals how he became the de facto powerbroker for Biden's Cuba policy.
Talk from award -winning Cuban journalist Liz Olivia Fernandez followed by a Q&A
At National Hispanic Cultural Center - Wells Fargo Theater

Free event, click here to reserve.
Community Event
Bollywood Night -
Join us from 6pm - 10pm for a tribute to Bollywood and experience its culture. 
At Hokona Ballroom

GEO Sponsored Event
Other Resources
US State Department International Programs (Partner Resource, Virtual)